5 Things You Probably Didn't Know About Buakaw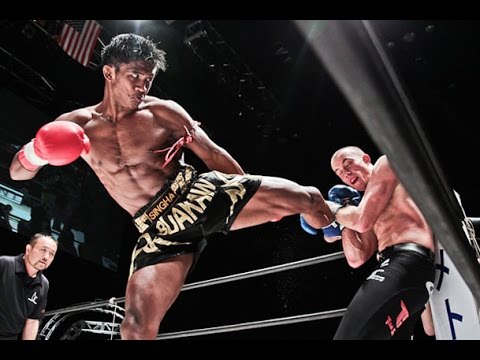 "Work hard in silence and let your success be your noise" Born in the rural northeast of Thailand, Sombat Banchamek, is more commonly known as "Buakaw", the White Lotus is one of the biggest legends in Muay Thai history. Thailand's most famous Muay Thai boxer began young. At the age of 8, his fighting career in his home province, Surin. Later, he moved to Chachoengsao when he was 15 and trained with the Por. Pramuk Gym. His first fight name was Damtamin Kiat-anan. Small local fights led him to a lifelong career. Even after having more than 300 fights in his over 20-year long notable career, there are some aspects in his life that even his fans have not discovered yet. 
His Training Routine
No surprise for his success. The champion dedicated his whole day to other types of training as well. Buakaw's training routine is extreme. Buakaw wakes up at 5.30 am everyday and does up to 10-mile run, 15 rounds of fighting work, sparring, and other strength training. In the late afternoon, he goes for another run, and then into his regular training program again with another 15 rounds, finishing just in time for dinner. 
He is kind-hearted - Built a gym in his home town
After his exit from Por. Pramuk Gym, and with the help of one of his sponsors, Yokkao, Buakaw built a Muay Thai gym in his hometown.  The gym was named under his last name, Banchamek. Buakaw built the camp not only because he wanted to continue training but also because he could help the children in his village discover Muay Thai.
Buakaw Owns Merchandise
The legendary fighter also has Buakaw has his complete range of Muay Thai gear and apparel such as boxing bags, boxing gloves, boxing shorts, hand wraps, and many more. 
The special feature of his collection is the traditional lotus design. Buakaw's name translates to "White Lotus" in Thai, hence the flower logo is frequently seen in his fight gear.
Buakaw is Awarded an honorary Master's and Ph.D.
Buakaw is not only prompt with a powerful fighter, but also an honorable Masters and Ph.D. graduate. He was awarded an honorary Masters of Science degree in Sports Science from the Kasetsart University for his remarkable achievements as one of the most talented athletes in Thailand. The fighter also acquired PhD. in Regional Development Strategies in 2014 from the Surindra Rajabhat University for being an ambassador for the ancient art and traditions of Muay Thai . 
Buakaw is superstar
In 2010, Buakaw co-starred in the martial arts movie Yamada: The Samurai of Ayothaya based on the life of Yamada Nagamasa, a Japanese adventurer who gained considerable influence in Thailand at the beginning of the 17th century and became the governor of the Nakhon Si Thammarat province in southern Thailand.  In his first movie in 2017, Buakaw plays the "broken-sword hero" who fights alongside King Taksin the Great against Burmese troops during the Ayutthaya period. Apart from that, the fighter recently launched his very first music video about a girl who chose an ideal man over a martial arts sportsman like him.