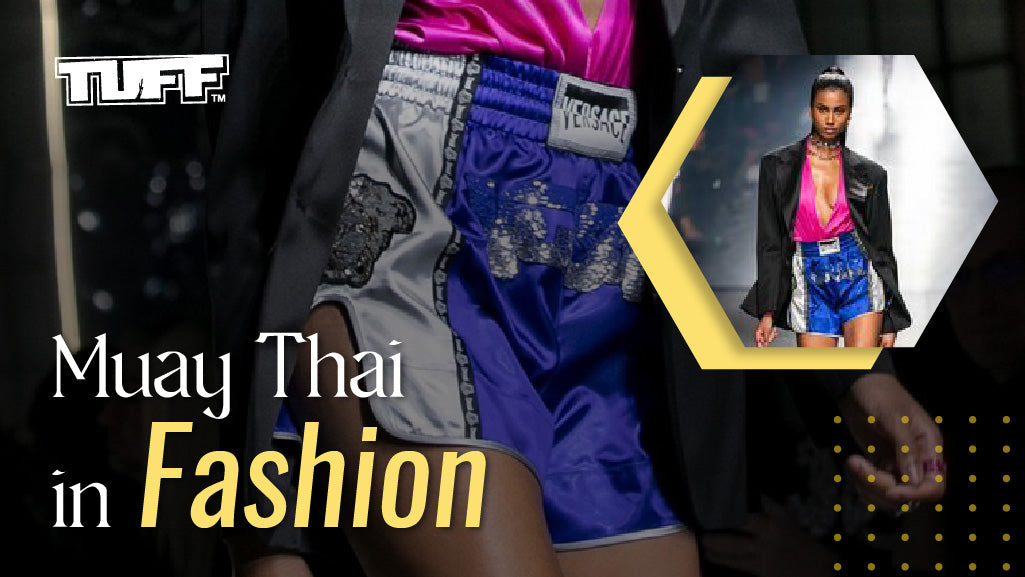 Muay Thai shorts are one of Thailand's most recognizable garments. Muay Thai, a Thai martial art with international renown, has given the shorts a boost in popularity. Muay Thai shorts have a distinct design that sets them apart from other shorts.
Muay Thai shorts have become a trend nowadays. Can Muay Thai really meet with fashion? Can it really be a fashionable item? Surprisingly, yes… Versace featured Muay Thai shorts in its  Fall/Winter 2019 collection. Models wore blazers and silk boxer shorts, which were labeled with its brand, "Versace". 
Versace is not the only fashion house that has produced Muay Thai shorts. Guess followed suit earlier this year with their Guess x J Balvin line. The 'Thai branded shorts,' costs about $100 a pair. Apart from that, the Japanese luxury streetwear label Human Made also released a series of Muay Thai shorts. Several celebrities have also seen wearing Muay Thai shorts such as Mia Kang, Wiz Khalifa, Selena Gomez, and DNCE.
It is clearly seen that Muay Thai shorts have become trendy during recent years. There is an increasing demand for custom-designed boxing shorts with a unique design for boxing enthusiasts as well. Boxers are allowed to mix and match the color and the writings on their desired pair of shorts, making it more customized. The color of boxing shorts shows a symbolic meaning as well. For example, boxers who wear pink boxing shorts mean strength and endurance because it is associated with God Mangala, the god of war. Labeling their names, their sponsors, or adding a drawing of animals that have a hidden meaning or spiritual energies like elephants for their power and tigers for their ferocity. 
TUFF Sport understands the needs and wants of boxers. Design and quality are the two main features we are truly proud to present. TUFF Sport allows boxers to customize their own unique boxing shorts with a wide range of color selections and patterns to mix and match. Print your own name or your sponsor with outstanding hand-made quality and sublimation printing technology by TUFF Sport.