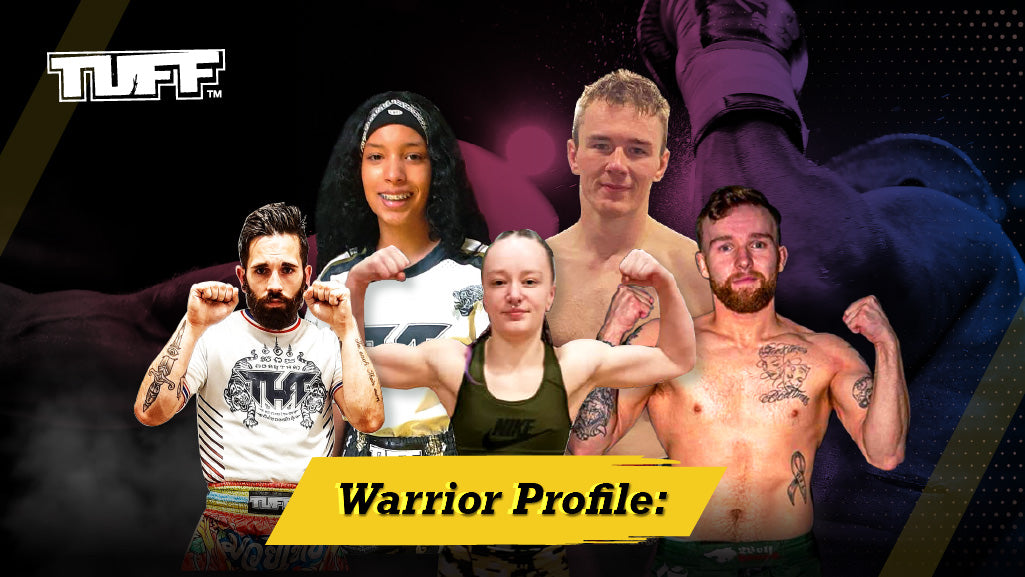 Dylan Harkey
Height: 5'9 

Weight: 155 lbs. 

Age: 27

Washington DC

Second-degree black belt in Taekwondo: 68 fights

Switched over to Thai boxing 5 years ago: 4 Fights

Over 53 matches in full contact tae kwon do

4 amateur k1 matches, 4-0
Goal: To fight Muaythai professionally and at the same time keep a social media presence posting combo videos 
Motto: To not let fear dictate the fight
Originally from Sicily, famous for its sandy beaches, and crystal clear water, Dylan Harkey has been practicing martial arts since he was 6 years old. Practicing combative sports is introduced by his mother because he got bullied when he was young. The kind-hearted fighter started with Taekwando. At 17, he switched his focus to Muay Thai and has done 4 fights so far. 
A left-handed boxer (Southpaw), like Dylan, has an advantage over other right-handed fighters because left-handed boxers' actions are more difficult to predict, perhaps due to attentional biases towards the right hand of an opponent, which in combat sports is typically used for power strikes by a right-handed fighter.
Muay Thai is not only a confidence booster, but it also teaches him to control his fear. Training and receiving moral support from his loved one are the things that are keeping him fit and moving closer and closer to his championship goal.
Dylan has always been a fan of TUFF boxing shorts due to their quality, and the freedom to customize his own shorts. 
"Even though Muay Thai is a solo sport, but being a part of TUFF Warrior gives me a sense of community and allows me to connect with other people with the same interest", said Dylan. 
Caitlyn Hadfield
Height: 5 ft 

Weight: 52 kg

Age: 22

Northern Ireland, Limavady 

Completed Brazillian Jujitsu, kickboxing, MMA, and wrestling

Second in Northern Ireland at 54kg for Brazillian Jujitsu from February 2019

Represented UK for Muay Thai

20 full contact fights
Goal: To become a professional MMA fighter, to build a strong women's team, and to help create a safe environment for women
Caitlyn Hadfield is a young and strong fighter who has been practicing different types of martial arts since she was 12. The petite 22 years old mighty fighter was bullied as a child. That was why she started to grow interested in martial arts and Muay Thai.
Caitlyn has a strong belief that women don't have to be pretty all the time, but can be vicious and nasty (in a good way). What she meant by that is women can be strong and have a can-do attitude to stand up for themselves as well as to achieve what they want.
Motto: If it's meant for you, it won't pass you, but you have to put the work in to get the success. 
She has always been keen to help build a Muay Thai community to exchange techniques, expand her fight knowledge, and personal experiences. "It is a nice idea to get to know other people who have the same interest", said Caitlyn. Being a part of TUFF Warrior helps her to widen the audience that she already has.
Inara Dias
Height: 5'9 

Weight: 105 lbs. 

Age: 13

36 fights

3 times champion
Would you imagine a young girl who is filled with passion for combat sports? It is not easy to find someone who knows what she loves from a young age. "I have always known that I love martial arts", said Inara, a half Brazilian half German teenage girl. She also added that she prefers boxing to any other outdoor sports. With support from her parents, Inara trains regularly and maintains her diet to keep herself fit.
TUFF sees Inara's potential as a talented fighter and is pleased to support Inara to reach her goal as a world champion in martial arts. We love to see one of our TUFF warriors grow as well as be successful in what she loves to do the most.
Patrick Doran
Height: 5'7 

Weight: 67kg. fight weight 61kg (bantamweight)

Age: 23

Fight History: Over 35 rounds
Patrick Doran, a 23 years old passionate Irish fighter grew up around combat sports since his dad was also a fighter. Nothing else has caught Patrick's interest other than martial arts. As a dedicated fighter, Patrick started off in amateur boxing, had a record of 14-2 winning the Antrim's & ulsters making it to all Ireland's where he came 2nd. Later on, he switched to 
K1 kickboxing where he gained a 16-4 record fighting in Ireland, England, Scotland, and Norway.
Motto: Hard work pays off
Patrick is now competing in MMA and plans to be as active as possible in every discipline such as K1, Muay Thai, boxing, MMA, BJJ, and wrestling. He has also been told recently that he has been selected to represent Northern Ireland in wrestling. Apart from that, he is also looking forward to joining the upcoming Common Wealth games. Patrick believes that hard work pays off. With all the effort and training that he has been doing all along, his ultimate goal is to be ONE championship champion in both MMA AND Muay-Thai.
Aaron Brogan
Height: 5'6

Weight: 70kg. (155lbs)

Age: 26

Fight History: Over 35 rounds

Amature MMA fighter with a record of 2-3. 

Motto: Hard work pays off

Training 6 days a week.
Aaron stepped into the martial arts world when he was 12. He started Judo and wrestling at that time. His passion grew along with his age and experience. At 17, Aaron started MMA training. "I enjoyed the competition of wrestling and wanted to pursue a professional career as a fighter ever since", said Aaron. He also plans to go pro in the upcoming years. His ultimate goal is to go professional someday fight in Bellator or the UFC.
With the motto of hard work pays off, his favorite fighting style is wrestling and jujitsu. Being able to work with both left and right hands gives him a higher success rate in the boxing ring.