Top 5 Motivational Quotes from MMA Fighters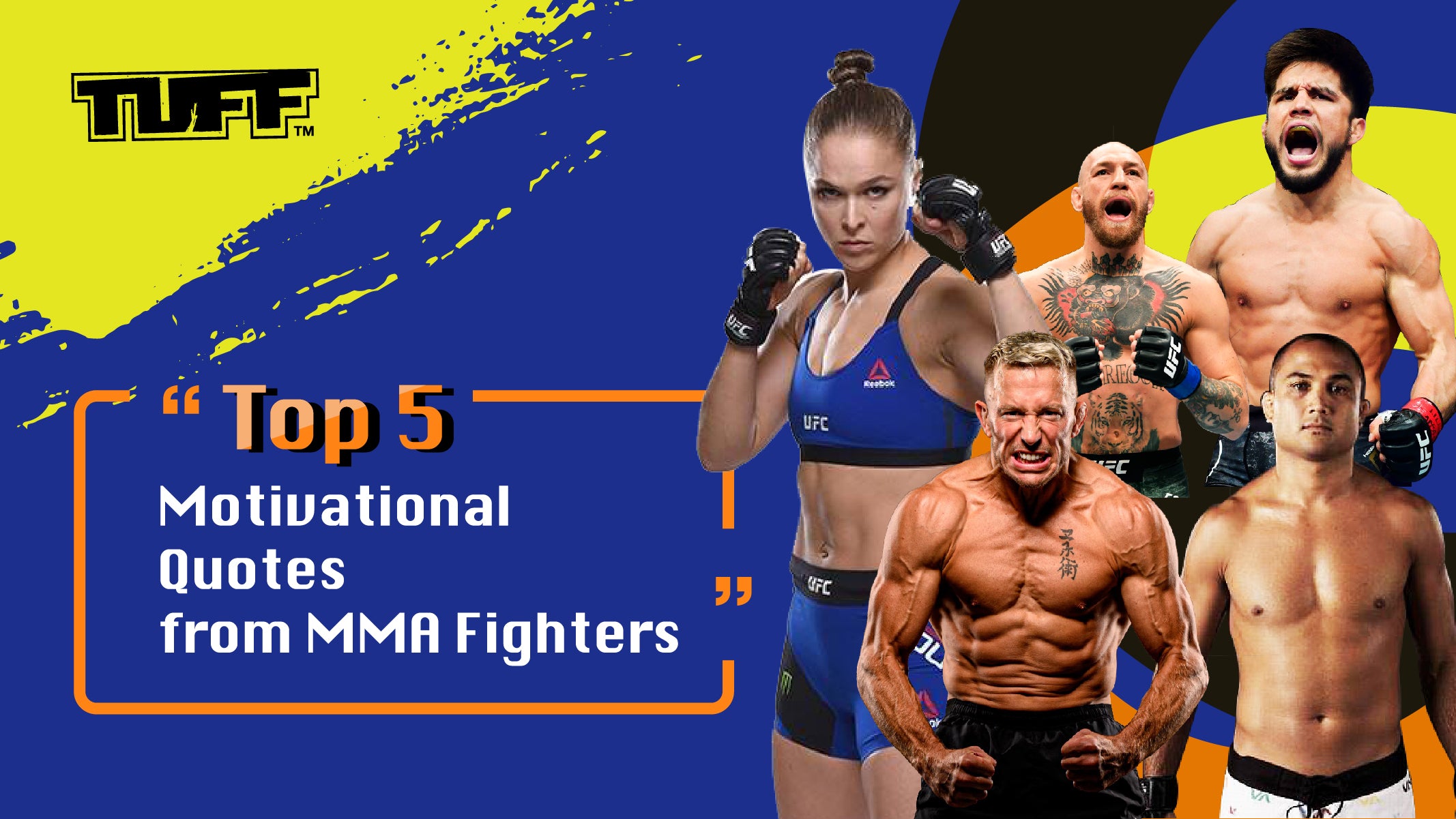 MMA is one of the fastest growing sports in the world, while athletes at the top of the MMA list are also getting increasingly well-known around the world. Part of their charm derives from their skills in the ring, but it also comes from their unique personalities.
The professional fighters have become some of the most quotable athletes which inspires both amateur fighters as well as professionals. Here are 5 of the best motivational quotes from MMA fighters.
#1 Georges St-Pierre
Canadian superstar Georges St-Pierre is commonly recognized as one of the most talented MMA fighter in the history. It was his passion and determination that got him to the top. This quote wonderfully describes his obsessive drive for greatness.
"There is a difference between a fighter and a martial artist. A fighter is training for a purpose: I'm a martial artist. I don't train for a fight. I train for myself. I'm training all the time. My goal is perfection. But I will never reach perfection."
This really shows how George is always developing his skills to be a better fighter. Above all, it is best to focus on yourself and your progress, not others. Do not be proud of winning a fight, be proud of yourself getting better.
#2  BJ Penn
BJ Penn is an American professional mixed martial artist and Brazilian Jiu-Jitsu practitioner. Penn competed in the Ultimate Fighting Championship (UFC) and in K-1. Penn was the first American Gold medalist of the World Jiu-Jitsu Championship. Penn was never a fighter who relied solely on his physical fitness, and this quote would be motivational for any non-natural athlete in a sport.
"Fighting is pure chaos, and to be a good fighter you simply have to be prepared mentally and physically to handle that chaos."  B.J. Penn
This implies that to be a successful fighter, you have to be willing to commit both physically and mentally. 
#3 Henry Cejudo
Henry Cejudo, the current UFC Flyweight and Bantamweight champion, is one of today's most accomplished fighters, and what's more impressive is that he also earned an Olympic gold medal in wrestling in 2008. Cejudo is clearly a motivated individual, as his motivational quotes prove it.
"If you have a dream, don't let anyone talk you out of it." Cejudo's  is willing to give it all to achieve what he desires. His net worth is estimated to be around $1 million. He also said "Dream big, sacrifice all, and you will enjoy victory".
#4 Conor McGregor
Arguably the biggest global superstar ever produced by MMA, Ireland's Conor McGregor essentially managed to master his skill in the fighting ring. This phrase highlights his constant determination to reach the peak of his profession.
"I wish everyone well, but you need to focus on yourself. You need to stop putting your hand out. Everyone wants handouts. Everyone wants things for free. You've got to put in the work. You've got to grind. You've got to go through the struggle, and you've got to get it."
#5 Ronda Rousey
While mixed martial arts is primarily a male dominated sport, there certainly are numbers of successful female fighters  athletes. 
Ronda Jean Rousey is an American professional wrestler, retired mixed martial artist, and judoka. She is best known for her time in UFC and her stint as a WWE wrestler. Ronda Rousey forced women's MMA into the mainstream with her dominant run at the top. She was also a quotable fighter, and her quote expresses a lot of what it's like to compete in such a dangerous sport.
"People say to me all the time, 'You have no fear.' I tell them, 'No, that's not true. I'm scared all the time. You have to have fear in order to have courage. I'm a courageous person because I'm a scared person."